Source: Robert Kneschke/Shutterstock.com
We all know that a good yoga session can be beneficial to our well-being.  Not only does it help us build strength, boost heart health and make us feel more calm and relaxed, but it can also boost our mood and improve our overall mental health. But did you know that there are ways to magnify the benefits, so the practice works for you even more?
One such way is to get outside and do your asanas al fresco style. Yep, fresh air has some surprising health benefits of its own, from boosting your mood to increasing energy levels. So why not double down on the benefits and soak up all the goodness? Just be sure you prepared for unpredictable weather with layers that won't distract your state of flow. Here are some useful tips for getting the most out of your open-air sessions.
#1. Dress in all-weather fabrics
Make sure to dress in thermoregulating fabrics that won't restrict your movement. For example, we love woolen leggings for women because they move with you but provide a close-to-skin layer for extra warmth. A Merino wool sport bra and base layers are also great for outdoor practice because they keep you cool when it's warm out and warm when it's cool out.
#2. Wear fitted clothes
In yoga, it's crucial to wear comfortable apparel that fits you just right, so you don't feel exposed when you're taking inversions or hanging out in a down dog. It's also key that you're not wearing apparel that you constantly feel like you have to fuss with. Outside, loose or ill-fitting apparel is especially problematic when you face wind that can mess with your clothes and send a chill down your spine when you need to stay warm and limber.
#3. Tie your hair back
When you're practicing outside, it's easy to get distracted by the hair on your face. Secure your hair with a ponytail, and then use a headband or sweatband to keep the flyaways under control.
#4. Don't forget the sunscreen
It may not seem like a big deal to take a few asanas outside when it's sunny out, but you need to make sure you prepared for sun exposure. Be sure to put on a layer of lightweight SPF before heading out. We recommend natural, reef-safe sunscreens even if you're far from the ocean—harmful chemicals can impact the environment thousands of miles away once they get into the local water system. Naturally, since you'll probably be doing some sweating, opt for waterproof or sports-proof sunscreen, so it keeps you protected no matter how active you get.
#5. Wear bug spray
Nothing sounds better than heading out into the woods, taking your asanas and doing some deep breathing surrounded by greenery and the quiet sounds of the forest. But with the relaxing, inspiring ambiance comes pesky bugs which can surround you and make your practice much less enjoyable or productive. We recommend using a natural bug spray (you can even make your own) to keep the bugs away without damaging the natural environment in any way.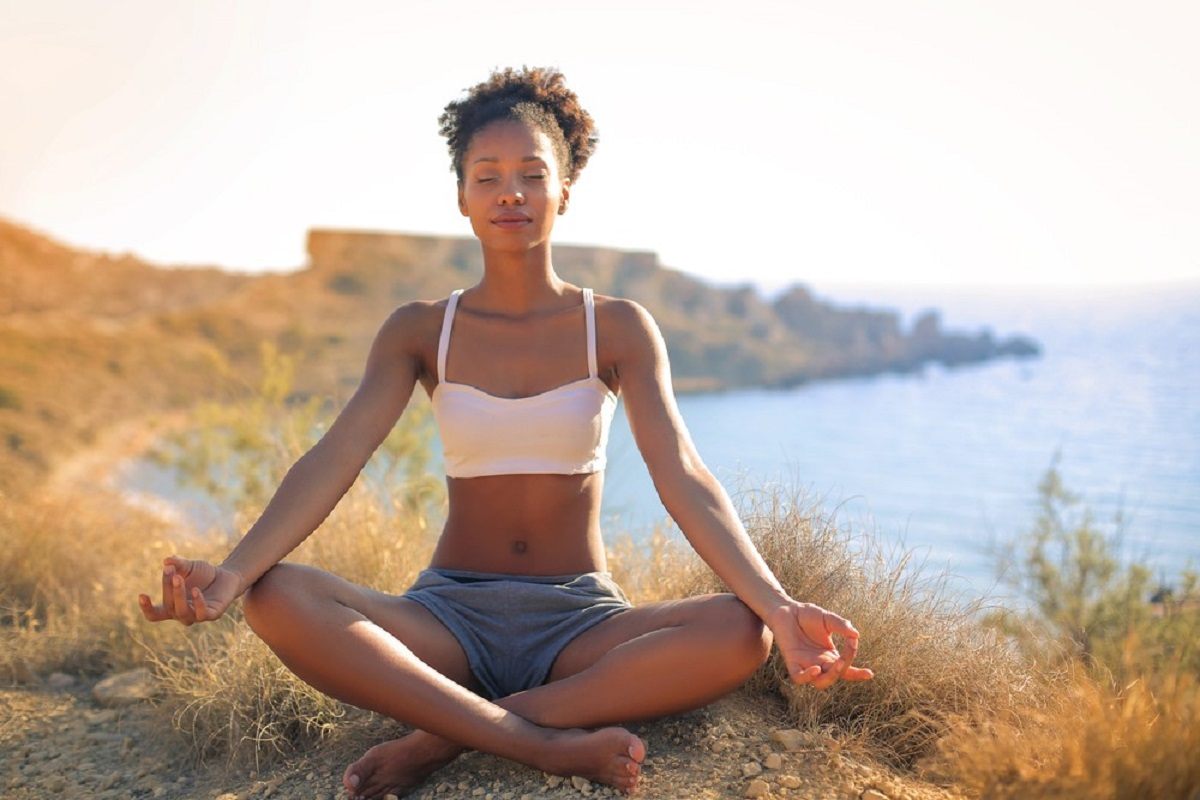 Source: Merla/Shutterstock.com
#6. Hydrate
The heat of the sun and the natural humidity can make you sweat more than usual, so it's crucial to remain properly hydrated when you head out for some outdoor yoga. When you're practicing in the woods or on the beach, you're less likely to have access to a water fountain or somewhere to refill your water bottle, so make sure to bring more than you think you need.
#7. Prepare for allergies
If you suffer from seasonal allergies triggered by pollen, pollution, and other airborne substances, you already know that going outside can be uncomfortable at certain times of the year. When you're doing yoga, things can get even worse because you're breathing deeply and potentially inhaling higher volumes of irritating matter. Taking some allergy medicine before and after you practice can help you prevent discomfort. If you have severe allergies, wait until air quality improves before heading outdoors for yoga.
#8. Uses a weighted yoga mat
Don't let a strong breeze deter you from enjoying those sweet, sweet poses! If you want to practice in a windy area — such as on the beach or by the coast — consider using a heavier-weight yoga mat or using rocks to secure your mat in place. You can also use rocks or loads to hold down your personal belongings, including your towel and jacket. The last thing you'd want is to have to go chasing after your items in the middle of savasana!
#9. Sprinkle in some meditation
If you've got the time and are open to it, consider a 15- or 20-minute meditation session after your practice. There's simply no better way to enjoy deep, meditative breathing than in the midst of Mother Nature. The soft, natural sounds of nature can help you settle into a more relaxed, open-minded state so you can soak up all the benefits of meditation.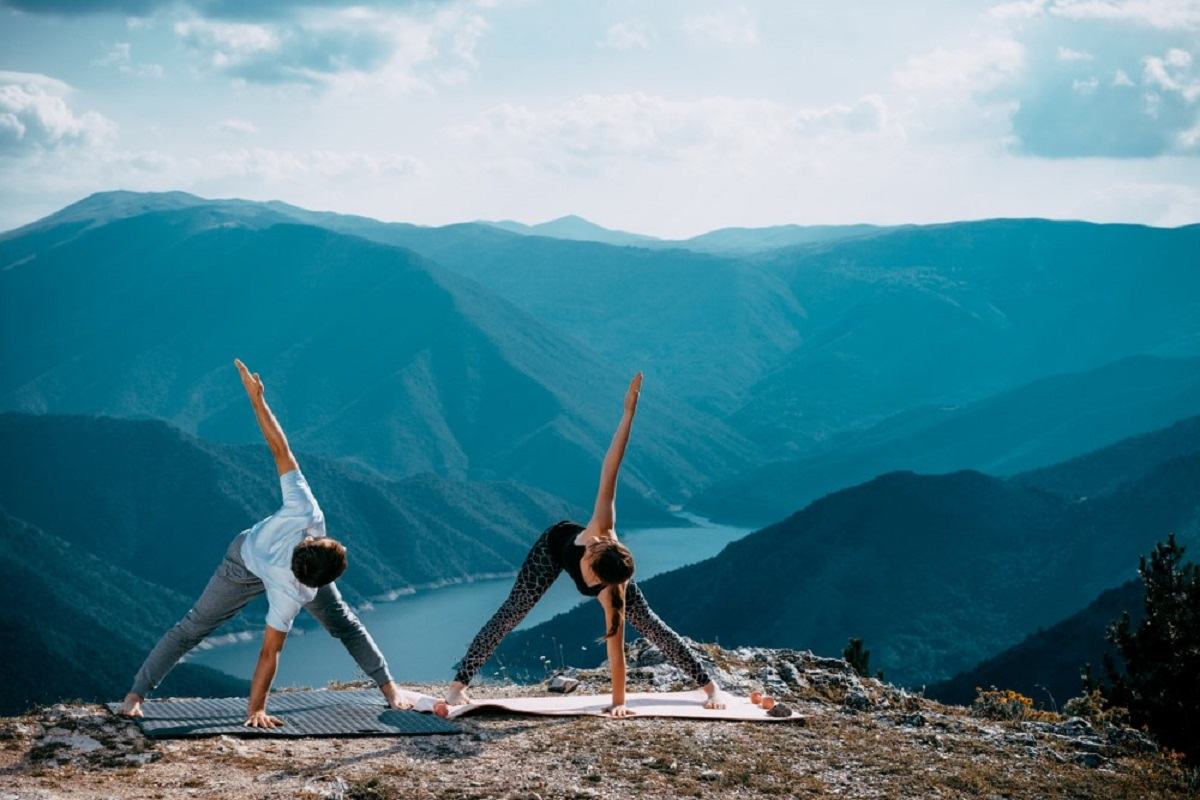 Source: Gorgev/Shutterstock.com
#10. Prioritize safety
Although you shouldn't be overly worried, it is essential to note that any outdoor exercise brings some hazards you wouldn't get indoors. Bugs, sunburn, rough terrain and inclement weather can all put you at risk of injury before, during and after your practice. It's a good idea to pack a first aid kit and some other safety essentials to ensure that you prepared for anything. Make sure to have essentials for treating injuries, and always bring your phone along with you, so you have access to help in the event of an emergency.
There's no denying the endless joy and benefits brought forth by an open-air yoga session. The fresh air, calm breeze and warm sun can help you sink into a proper state of nirvana, so it's something you want to get comfortable with if you can. For the most beneficial and enjoyable practice, make sure to be prepared for whatever Mother Nature throws your way.